Pavilion
Need a local venue for your next family event? Rent our facility today.
Our facility is conveniently located in the Town of Greece on Latta Road between North Greece Road and Manitou Road. The Party Hall is approximately 30×70 feet.
All prospective renters MUST be 21 years of age or older.
Our rentals go from 9 am to 1 pm.
You can bring in any food or beverages you desire. You can also cook using our full kitchen (don't forget to bring your pots/pans and utensils). We can seat up to 150 people inside the pavilion and all tables and chairs are provided. Our heated/air-conditioned hall will be empty when you arrive so you will have to set up the tables and chairs. Our tables are 10 feet in length and will accommodate 10 people per table (5 on each side).
There are also 12 picnic tables outside underneath a shelter for additional seating (summer months). We have a dumpster on-premises and you can place all your trash in it and all garbage bags are provided. You are responsible for tear down and lightly cleaning up after your event.
We have an unstocked bar. You provide your own beverages. You can serve what you want and at a fraction of restaurant prices.
There is a double-wide refrigerator, located in the main hall, which is perfect for keeping cases of soda pop, boxes of wine, and large bowls of salads nice and cold.
We have 18 banquet tables for you to use as well. We currently have 15 tables that are 30 inches wide by 10 feet long, and four round tables at 60 inches round. Also, our chairs are stored on a movable rack. These two features make setup a breeze.
Our commercial stove is perfect for all your cooking needs. It has 6 burners, 2 ovens, and a griddle. All you need is your own pots, pans and utensils. We also have a large propane* grill located outside for all your grilling needs (*propane not provided). If you choose not to cook, you can have your party catered. Whichever is easier for you.
A refrigerator/freezer is provided. Also, a payphone is available.
For recreation, if you like volleyball, we have a net setup and if you like baseball, we have a diamond in the back of the building.
If you prefer to eat outside we have 12 picnic tables. Also, if any problems arise at your event, you can call our dispatcher and he will ensure someone comes down to assist you.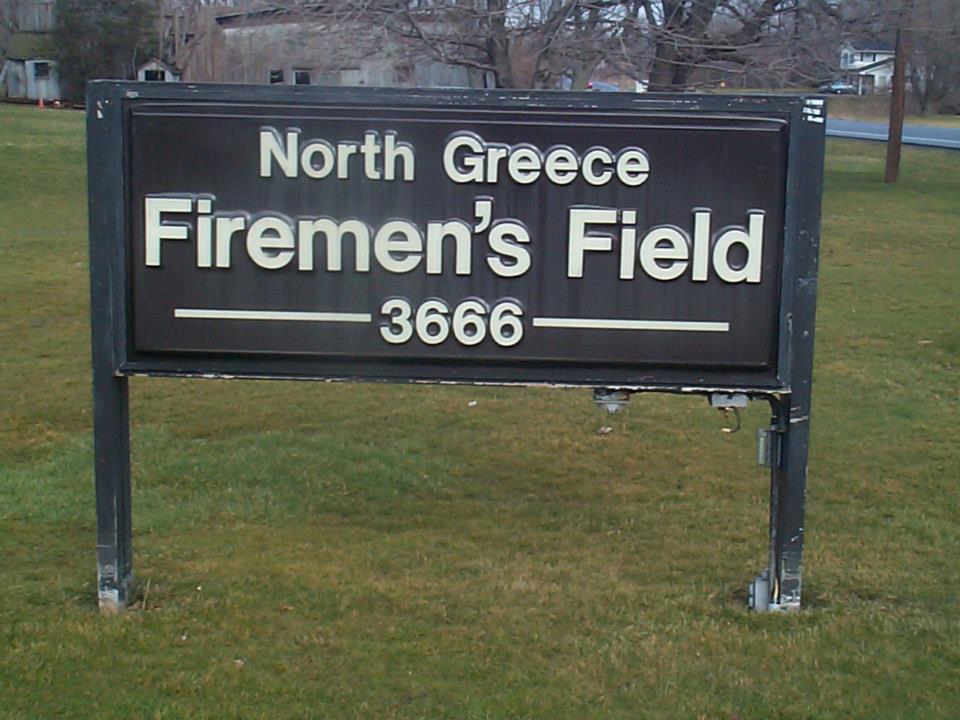 Other Important Information
Regulations governing the use of the North Greece Fireman's Field.
All vehicles must be parked on the blacktop and crushed stone surfaced areas. Driving and/or parking on grass is not permitted. Observe all FIRE LANES.
Farm buildings to the South and surrounding farmlands are off-limits.
Decorations are not allowed to be hung from the ceiling in any manner. Decorations may be hung on the walls using thumbtacks or pushpins. No tape is allowed to be used on the walls to hold decorations. Tape peels away the paint from the walls.
Silly-string and Confetti is prohibited inside and outside.
Bounce Houses and Dunk Tanks are prohibited.
Please turn off air-conditioning if the windows and doors are going to be left open.
No kitchen materials or supplies are provided. Stovetop and ovens are to be cleaned of all spillage.
All garbage cans inside the building and outside are to be emptied into the dumpster.
All tables used are to be cleared of debris, washed and placed back in the storage room.
All chairs used should be folded, placed on chair racks and returned to the storage room. Position chairs on the rack all the same way so they fit on the rack.
The inside of the building must be swept with the brooms provided and all spills must be mopped up.
All persons attending an event at the Fireman's Field are expected to conduct themselves in a respectable manner.
Tables and chairs are not to be taken/ used outside.
Upon leaving the facility, please make sure all windows are closed and locked, all lights are turned off and doors are closed and locked.
Premises MUST be vacated by 1:00 am.
The security deposit or part of it may be forfeited if the above rules are not adhered to. An inspection of the premises will be made to determine what condition the building and grounds have been left in.
If any problems should arise during your event at the Fireman's Field, please call the North Greece Fire District dispatcher at 865-2887.
If something happens and you have to cancel your reservation, as long as you give us 60 days notice prior to your reserved date, we will refund your money or we can try to find you a different date. If not, then you will forfeit your deposit.
Reserve the Pavilion for Your Event
"*" indicates required fields